Shine Sports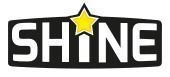 Wheatfield has built a strong partnership with Shine Sports over recent years. Our Sport and PE Leader Mrs Holbrow works closely with the Shine leadership and coaches to plan a range of sporting opportunities for children. This includes lunchtime coaching, PE provision and after-school clubs. Shine also run a successful holiday club which is open to children across the local area.
The Shine coaches have become a part of our staff and are very popular with the children. In the summer term of each year, all the Shine coaches join us for our annual Sports Day which is an event not to be missed!
Contact Shine
Please direct all questions about Shine clubs and services directly to the numbers below.
Telephone: 0117 4033033
Email: info@myshine.co.uk
Further contact information is also available on their web page. Click the image below to visit the relevant page.