Welcome to 5E & 5R
Our teachers are Mrs Elmore & Ms Rutherford. Our teaching assistants are Mrs Boyes & Mrs McKeown
Our PE days are on alternate Thursdays and Tuesdays. Please send your child into school wearing weather appropriate clothing and shoes on their PE day. Class Timetables for this term are as follows: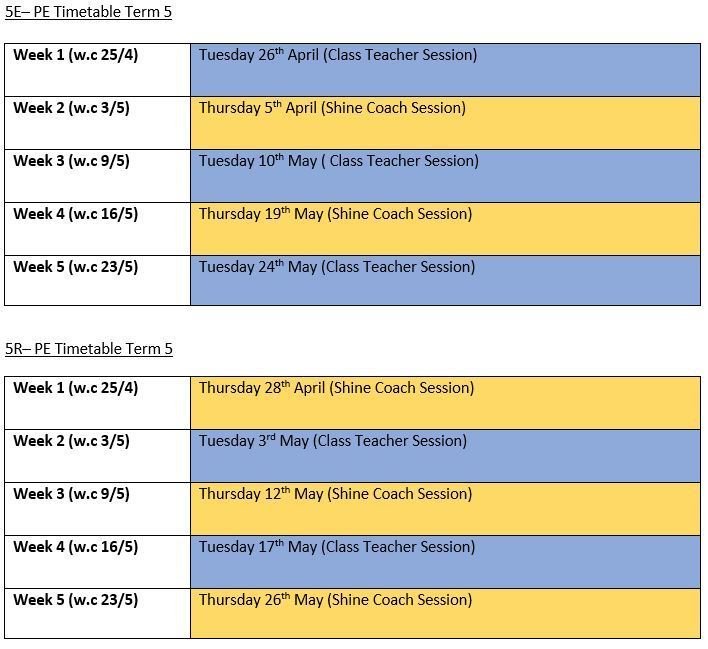 Please send your child into school wearing weather appropriate clothing and shoes on their PE day.
English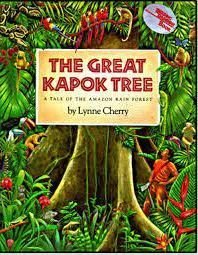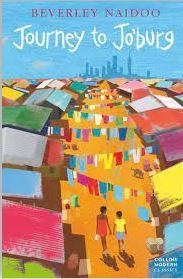 In term 5 we will be reading "The Great Kapok" by Lynne Cherry, which links to our Geography unit on Rainforests.
In term 6 we will be reading "Journey to Jo'burg" by Beverley Naidoo, which follows the journey of two children in South Africa.
Both texts will provide a multitude of opportunities to explore various writing skills and reading skills. We will be following "The Write Stuff" approach to writing - please feel free to ask for more information
We'll also be exploring related non-fiction and poetry. Through whole class reading lessons we will explore the skills of vocabulary, inference, prediction, explaining and summarising. It's going to be an exciting term!
Maths
We will be covering the following objectives:
Decimals – including addition, subtraction, multiplication and division

Measurement – including conversion between units

Geometry – looking at shapes and their properties (with a focus on angles)

Fractions – a revisit of our home learning

Revision of fluency and key topics ready for Year 6
Please encourage your child to practise their maths planets at home, which are tested on a Friday. Practise sheets and overviews are available on the Maths Planets page. Any additional maths practise such as times tables would also be great!
Term 4 Wider Curriculum
This term in our wider curriculum we will be looking at Geography, Science, DT (PPA), and PSHE (Jigsaw). Click on our logos to find the pupil organiser. We also have a very exciting Fairtrade Investigation planned for week 3.
Check us out on youtube! Make sure you subscribe so that you see any new content as soon as we upload it :) https://www.youtube.com/channel/UCP6M54utMSorGGrDtVdFGyw
Home Learning
Maths:
Children need to continue learning for their maths planets; alongside continued practice of times table and related division facts. Maths Planets will be tested each Friday and multiplication grids will be completed throughout the week.
Reading:
We ask that you read' with your child 5 times a week. This only needs to be a 10 minute session and you don't have to finish a whole book every time. We will be continuing with our 'Reading Challenge', so make sure you record each read in their log book as this will contribute.
Reading does not have to be limited to the books children bring home from school. It can include any books they have at home, reads with siblings or reading books from the local library.
Spelling: Children are given a list of spellings at the start of each term, which will be tested each week. These spellings are in their homework book - a copy can be found here as well: