School Performance 2022
This section shows the results from our most recent Key Stage 2 assessments (SATs). All schools are required to publish this information on their websites. Year 6 children take their SATs (national tests) in May and receive their individual results in July. The data for the whole school (and the comparison to national and local data) is not usually published until around November each year. If you have any questions about this, please speak with our Deputy Headteacher.
*Please note that due to the national lockdown, there were no national tests in 2020 or 2021 and so this section of the website cannot be updated. The government will not publish KS2 school level data for the 2021 to 2022 academic year. They have archived data from the 2018 to 2019 academic year because they recognise that the data from that year may no longer reflect current performance. We have chosen to publish our data for 2022 (alongside national comparison data for that year) for reasons of transparency.
Phonics Screening Check (Year 1)
Pupils in Year 1 complete a 'phonics screening check' to understand the progress they are making in their phonic knowledge (one of the key building blocks of early reading).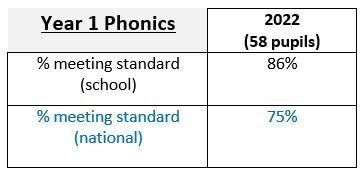 Year 2 Teacher Assessment
Pupils are assessed at the end of Year 2 in reading, writing and mathematics. The final judgement is based on teacher assessment but this is informed by a set of national tests (SATs) which take place in May.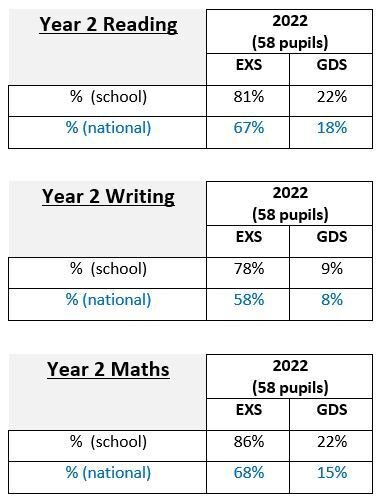 EXS = meeting the expected standard
GDS = greater depth (meeting the higher standard)
Year 6 SATs Outcomes
Pupils are assessed in May on a set of standardised national tests (SATs). These are sat by all pupils in England, under exam conditions.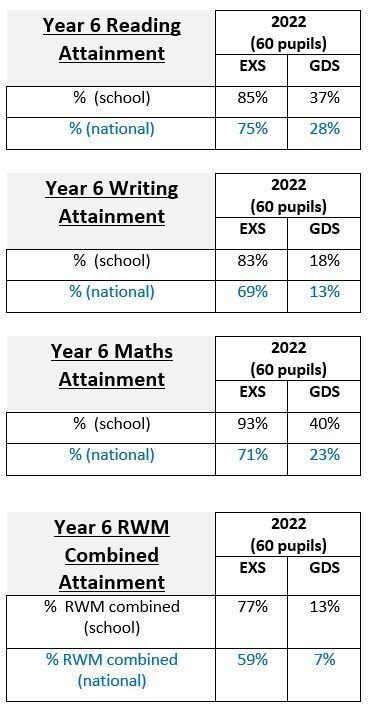 EXS = meeting the expected standard
GDS = greater depth (meeting the higher standard)
------------------------------
The final table shows pupils who met the expected
or higher standard in all three subjects.