Early Years Foundation Stage (EYFS) - Reception Year
Children in Reception follow the EYFS curriculum which builds on the learning they will have begun in pre-school or nursery. Reception marks the final year of the EYFS curriculum before they begin the national curriculum in Year 1.
The EYFS curriculum is separated into seven areas of learning (three Prime and four Specific). Each area of learning is further broken down into two or three separate aspects. These areas and aspects are shown below.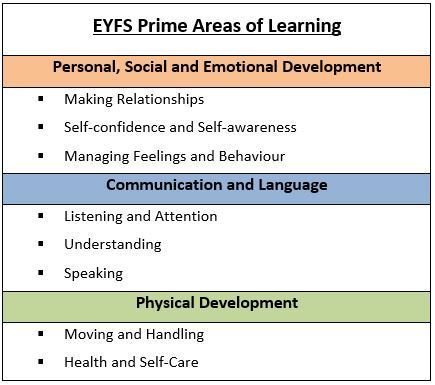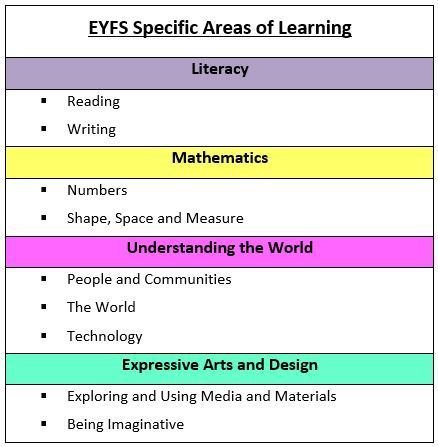 Our Curriculum
Teachers at Wheatfield plan a curriculum which enables children to explore and learn, often across multiple areas of learning. For example, a mathematical activity may also involve children being imaginative, speaking and making relationships. Teachers plan activities and themes around areas of interest raised by the children e.g. if the class show a sudden interest in insects, the teacher will try and design opportunities for them to learn around this theme.
Much of the learning within EYFS is through play and exploration but there are also opportunities for direct instruction e.g. learning how to count or remember the sounds represented by letters.
You can find out more about the current learning taking place in EYFS by visiting our Reception Class Page - you can also download copies of the latest Reception Newsletter.
Tapestry (see your child's learning)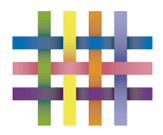 We use an online 'learning journal' know as Tapestry to track the achievements and interests of your child. EYFS staff regularly update your child's journal and we strongly encourage families to upload their own contributions. Click the icon to log in or find out more.
You can also download the following guides for using the Tapestry App:
Early Learning Goals
Teachers make on-going assessments and observations of your child throughout Reception year. At the end of the year, teachers have to make a final judgement about whether your child has achieved the Early Learning Goals.
The document below describes the assessment system for Reception year.