Covid-19 - information for families
Wheatfield Primary School is currently open to all pupils but working under restrictions as set out in guidance issued by the DfE designed to limit the impact of the Coronavirus pandemic on educational settings.
Latest Information About Bubble Closures and Positive Cases
This section is designed to keep families and other interested parties up to date about any positive cases within the school community.
There are no cases in school or bubble closures at the present time (updated 15/6/21).
Press Enquiries
If you are from a news organisation and are seeking a comment about cases within the school, please contact the Strategic Communications Team in South Gloucestershire LA who represent us. They can be contacted on: 01454 863200 or by email: StrategicCommunications@southglos.gov.uk
Risk Assessment
Each school is required to produce a risk assessment to show how we are managing the risk posed by Covid-19 whilst re-opening to the site to pupils and families.
Lateral Flow Testing of Staff
Our whole staff team (including cooks and cleaners) now test themselves twice a week for Covid-19 using a lateral flow test which is supplied to us by the DfE. To find out more about this additional safety mechanism, please read the letter below which was sent to all families.
Home-Learning Offer
Visit our Home-Learning page for an overview of our school's offer. This explains what support and resources each year group can expect to receive during any period of closure. CLICK HERE TO VISIT THE PAGE
What you can do to help …
There are many ways which you can help to keep your child, your family and our staff team safe. The most important of these is to know the symptoms of Coronavirus and respond appropriately and immediately if your child or any member of your family (or someone you have been in contact with) displays these symptoms. The links below are designed to support you with this.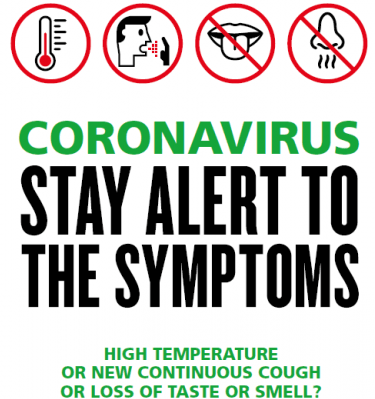 What if my child develops Coronavirus symptoms?
You must inform us as quickly as possible and arrange to get your child tested. You can book a test via the online booking portal:
https://self-referral.test-for-coronavirus.service.gov.uk/antigen/essential-worker
There are now several local tests centres including one at UWE. There are also the option of home-test kits but these could take longer to process. The school has been provided with a very small number (around 10) test kits - these will only be distributed for families in exceptional circumstances where there neither of the above options are available.
What if my child's test is negative?
You must inform us as quickly as possible and we will inform Public Health South Gloucestershire as part of their standard operating procedures.
What if my child's test is positive?
You must inform us immediately and we would request that you call the school and ask to speak to Mr Winterburn or Mr Woodworth. On weekends, please contact us through the School Gateway and call the office first thing Monday morning. We will then notify Public Health South Gloucestershire, the Education Department of the Council and the Regional Public Health England Health Protection Team who will advise anyone who has been in close contact with your child to self-isolate as per the national guidance (this will, of course, be handled sensitively).
What happens if there is a confirmed case of Coronavirus in the school?
School leaders will work closely with the Council's Education Department and the Regional PHE Health Protection Team to ensure any person who has been in close contact with the confirmed case, self-isolates as per the national guidance. We will act quickly and efficiently to ensure that children, staff and families are safe and well supported.