We're really proud that lots of you got behind the workers of the NHS yesterday by making a load of noise from your front door steps! It will have meant a huge amount to all those people who are working so hard to keep us all safe at the moment to know just how much they're appreciated. Well done, gang. We think you're fab.
Love from Mrs Bibby and Miss Gregory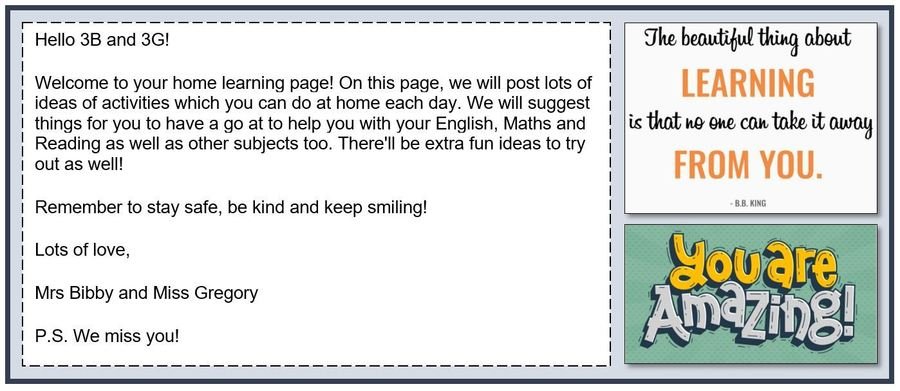 Message for parents/carers
Thank you for all you do to support your child's learning whilst school is closed. We recognise that this is an unusual and unsettling time for all families but we are here to provide any help that we can.
UPDATE 26.03.20
Now we've had a few days to trial a few ideas, we thought we'd let you know the plan going forward.
Each week we plan on uploading a home learning newsletter. This will contain activities to explore areas of the wider curriculum (science, art, music, PE, etc.) Then we will post a daily core learning resource. This will consist of reading, writing, spelling and maths activities. Please feel free to use both of these suggested ideas in whatever way works for you and your family. There is no pressure to complete any of the activities. We will continue to add daily challenges and other suggestions to widen the children's experiences and let them explore something a bit different whilst they are home learning .
Daily Core Learning
Have a look below for our daily challenges - these will be a bit different to the kinds of activities you'll find in the home learning newsletter and daily core learning.
Come back here each day to find a new challenge!
NEW!
Be curious...
Visit Chester Zoo from the comfort of your own home! You can watch a live stream on the Chester Zoo Facebook page (ask an adult to help!) from 10.00am when the 'virtual gates' will be opened.
The animals are waiting...
Which will you see?
PE with Joe
Kick start your day in the best possible way by doing some exercise! After doing PE with Joe, you'll be ready and raring to go with your other activities.
Our Home Learning Gallery
Want to show your classmates what you've been doing? Ask your adult to take a photo of you and email it to your teacher. We'll post it in our gallery. We'd love to see what you're getting up to!

Be mindful...
Sit outside for ten minutes and write down all the sounds which you can hear.
Press play to hear what we're singing along to today!
Calling all mathematicians!
Love maths?
Can't get enough of it?
Want an extra challenge?
Ask an adult to help you get onto the 'I See Maths' daily lessons by clicking the link below!
Be creative...
Create an outdoor mandala style piece of art, using natural objects you can find in your garden.
Need help getting started?
1) Collect your materials.
2) Organise them by size.
3) Choose what you want to go in the centre.
5) Work your way outwards.
4) Stand back and admire your work!

Daily Read-Along
Even though we're all at home, we'd still love to read to you! Each day, we'll post an audio clip of us reading a chapter of a book or a short story.
This week, it's Charlie and the Chocolate Factory!
NEW! Today, Mrs Bibby reads Chapter 25.