Welcome to RM & RC
Our teachers are Mrs Midlane and Miss Cook. Our teaching assistants are Mrs Binding and Mrs Webb. Mrs Hodges and Mrs McIvor also help us on Wednesday afternoons. Our normal PE days are Mondays. Please make sure that your child's PE kit is in school every day.
This Term's Learning
"What makes us special?"
Topic Overview
Our big question for the autumn term is 'What makes us special?' We will be using this question to explore new activities, and places as well as stretching our imaginations.

For more information, please view our curriculum map here.
Our learning is planned around the interests and needs of the children so these objectives will be adapted as the term progresses based on the needs of the individual children.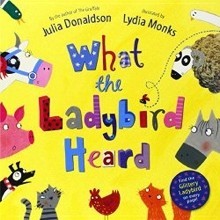 What the ladybird heard by Julia Donaldson
This week's learning - Week 3
Each week we will update this section to inform you of the planned learning objectives for the coming week.
This week we are...
continuing to learn the classroom routines and becoming more independent. Children will continue to attend half day sessions this week. We will be learning and reciting a number of different number rhymes and have focused activities based on our power of reading book 'What the ladybird heard.' We will also be using a range of technology this week (laptops, ipads and Beebots).
Other important things happening this week:
Group B - mornings and lunch
Group A afternoons
Dates for your calendar:
Phonics workshop - 4/10/17 @3pm
Maths workshop - 18/10/17 @3pm
Tapestry workshop - 15/11/17 @3pm
All information from parent workshops will be uploaded onto the class page after the session.
Please see the main School calendar for information on whole-school events.
Please see the videos below for more information on how we write our cursive letters, and how we teach reading and writing.