Welcome to RM & RC
Our teachers are Mrs Midlane (RM) and Miss Cook (RC). Our teaching assistants are Mrs Binding and Mrs Webb.
Miss Bourne (Apprentice Teaching Assistant) also helps in RC each morning.
Mrs Medina and Mrs Wills also help us on Wednesday afternoons.
Our normal PE days are Fridays. Please make sure that your child's PE kit is in school every day including their top, shorts (or jogging bottoms).
This Term's Learning
"What makes us special?"
We have enjoyed getting to know your child during their introductory sessions, home visits and full days in school! We are overwhelmed with how quickly they are settling in. Our big question this term is "What makes us special?" We will explore this question through getting to know each other, making new friends and asking questions.
This term's learning:
Each term we update this page to give you an overview of our planned learning for the term ahead.

We send out a newsletter every long term - Autumn, Spring and Summer. It also gives you ideas in each area of development to support learning at home.

Reception newsletter Autumn 2018
Phonics - Phase 2
We will be learning and reviewing these sounds in Phase 2: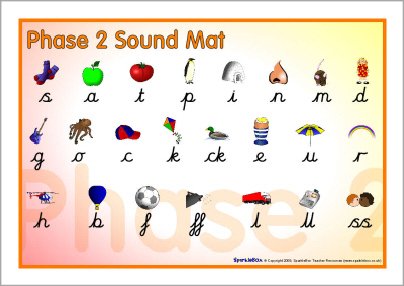 Please help your child at home with their sound booklet and continue to practice on the blank sheet in their sound booklet at home.
As your child becomes more confident with their sounds, we will be sending home word boxes (word list) to practice their reading (blending) skills. This will be dependent on when your child is ready.
On the bottom right hand side of this page there are downloadable resources and links to webpages to help with Phonics.
Visit this website where you can download free sound flashcards and words to practise reading at home.
http://www.letters-and-sounds.com/phase-2-resources.html
Mathematics
This term we will be doing lots of practise to develop our mathematical skills. We have daily whole class maths sessions and two adult led activities each week. We are practising our counting aloud to 20, recognising numbers to 10 and developing our counting skills.

At Wheatfield we have a whole school initiative called 'Math Planets' to develop number skills. In Reception we have two levels (orange and green) which we expect the children to complete by the end of the Reception year and a third level (purple) for a challenge to exceed the end of year Early Learning Goal for number. Please look at your child's Math Planet booklet to see their current maths target. Once you feel they are confident at their target, put their booklet into your child's class communication book which is located in the cloakroom. We endeavour to check the booklets as soon as we can. If we feel your child needs a little more practise, please continue on this at home for a couple of weeks before returning. This helps to ensure the knowledge is consolidated and secure.
English
We have been looking and enjoying lots of stories and books to support our learning about...
Ourselves - Mr Men, The day the Crayons quit, Elmer,
Autumn - Percy the Park Keeper (After the storm and Treasure hunt)


Please read the school newsletter which is available to download on the school website.
Please see the main School calendar for information on whole-school events.
Youtube is a great resource to help with recognising, pronouncing and blending the sounds correctly. Here are a few pages we use at school and recommend at home for further practice:
Please see below for examples of videos to support...
Phonics - Correct pronunciation