Friends of Wheatfield Primary School


Registered charity no. 1149714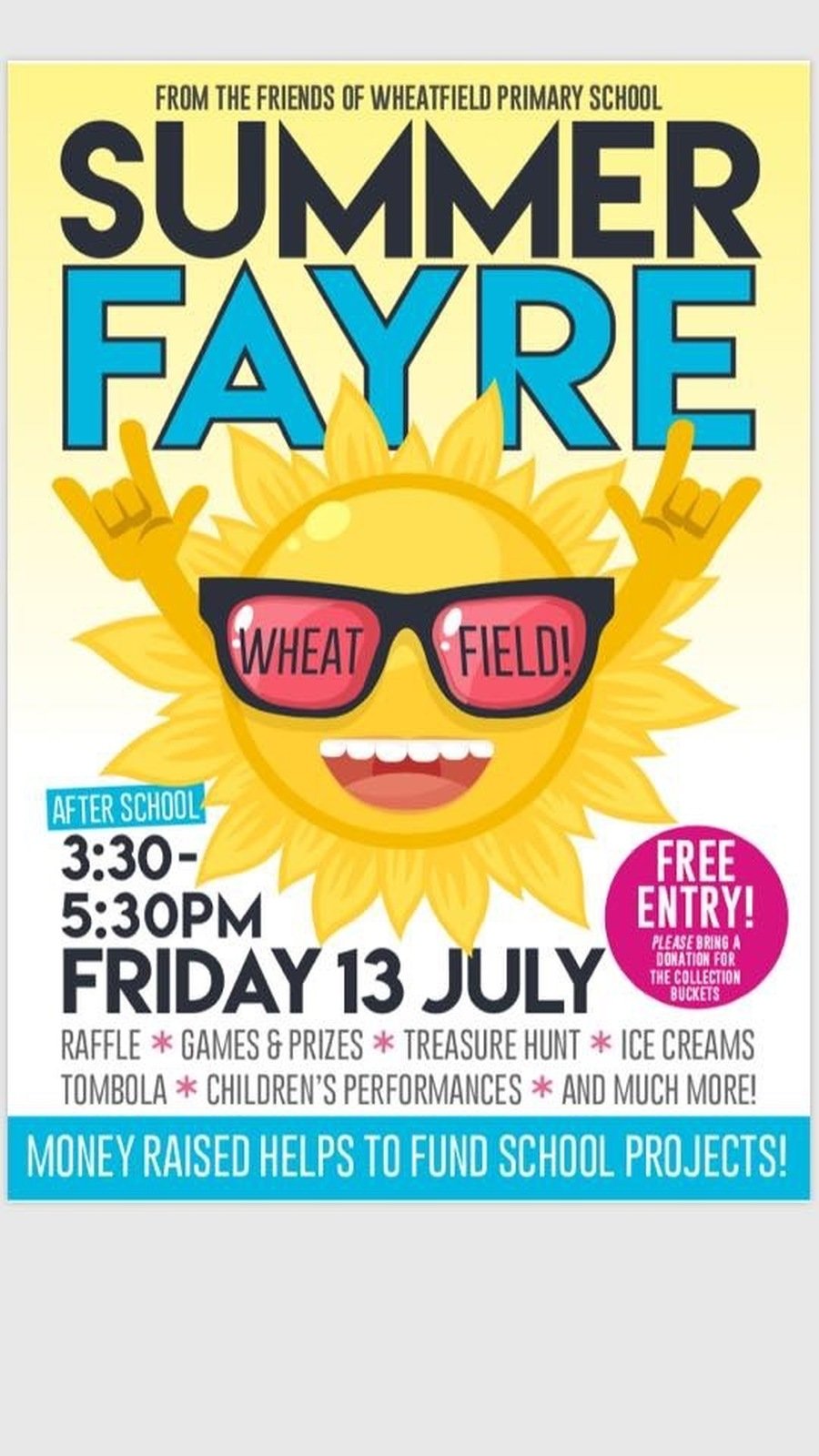 The Summer Fayre is almost here, please come along and support this event. We have over 35 different stalls to look around. This year the pupils will be organising and running their own stalls and there will be a treasure hunt around the school grounds. The fabulous raffle will also be drawn so come along and see if you have won a fantastic prize.
A big attraction this year will be the introduction of the school stocks, a perfect time for the children to sponge wash their favourite member of staff's face :-)
So come along and join us for a couple of beverages or a soft drink and treat yourself to a barbeque or slice of pizza.
We look forward to seeing you there!!!!
Congratulations to everyone who entered the ice-cream decorating competition the entries were amazing and will be on display at the school fayre.
Well done to our winners:
Dexter (RC)

Charlotte (1B)

William (2M)

Elizabeth (3D)

Lanthe (4P)

Niamh (5M)

Olivia (6G)

KS1 Overall Winner Oscar (1B)

KS2 Overall Winner Chloe (4M)
Please join our Facebook page:
https://www.facebook.com/WheatfieldPrimarySchool/?notif_id=1521277113474859&notif_t=page_invite_accept&ref=notif
Upcoming Events
Minion

Movie Night - 7th March 2018
Easter Egg Decorating Competition 21st March 2018
Forms & Flyers

Easyfundraising
Help the school to raise funds with minimal effort from you by signing up to this online tool. Each time you shop online, whether it is for groceries, clothes, bike parts, train tickets, toys, books or anything, money from your purchase automatically goes to the school at no extra cost to you. Please see our newsletters for more information and simply register at www.easyfundraising.org.uk.

How can you help?
If you would like to help raise some money for the school and can spare some time on a regular basis to do anything from bake cakes, make decorations, set up for events or run a stall at a fayre, then become a Registered Helper. We will keep your details on a database and contact you before each event to check your availability. You are not required to help at every event and can choose how you would like to help us. Simply complete the Registered Helper Form on this page and return it to the school.

For a more involved roll each year we invite parents and carers to join our Friends committee. This involves attending committee meetings and helping to decide what events we will host each year and how we spend the money raised. For further details please contact the committee Chair, Katharine Wiltshire or email us at the address below.
How to contact us
You can contact us by email at pta@wheatfieldprimary.com or alternatively leave a note with the school office and we will be in touch.

All our latest forms and flyers are available on this page. Please see the school newsletters for updates on events and how we are spending the money raised.